Unless otherwise noted, the information on this page comes from
The 15th, or King's Light Dragoon's (Hussars)

Uniform & Equipment

Shako
The distinctive red shako of the 15th, surmounted by a white-over-red cock feather plume. The yellow cap lines loop under the right arm and affix to the outer row of buttons on the dolman, usually protected by an oilskin cover on campaign. Made of pasteboard and leather, and secured with brass chin-scales. Worn after the Corunna campaign for foreign service, with the busby being retained for home service. The red shako is remembered today through the red peaked service cap worn by the Light Dragoons.

Dolman/pelisse
The dolman is worn tight to the body, secured with 21 tin buttons and heavily laced down its front: silver for Officers and Sergeants, white for all other ranks. The fur-edged pelisse is worn either slung over the left shoulder (historically to protect the bridle arm) in full dress, or worn over, or instead of, the dolman on campaign. A barrel sash is worn over the dolman and fastened with a wooden toggle.

Belt equipment
The whitened buff leather cartouche belt holds a black leather cartridge pouch containing 28 charges held in a drilled wooden former. The belt also has a spring clip to attach the carbine for skirmishing on horseback. It is worn over the left shoulder. On campaign it was supplemented by a wooden canteen, painted blue and stencilled with regiment and troop numbers. This had a capacity of 3 pints, and leaked! A canvas forage bag, holding rations and plunder, sat underneath the canteen, over the right shoulder.

Sabre belt/sabre
The whitened buff leather sabre belt has two functions: to hold the sabre and also the sabretache. The sabre is slung on two straps, hanging low on the left-hand side, and, when dismounted, is hooked up to the belt. The sabretache is a flat, black leather bag with a stiffened front to act as a writing desk whilst mounted. It contains paper and pencil. The sabre is the 1796 pattern Light Cavalry Sabre, a superbly balanced, curved weapon, considered to be the finest of its type. The members of E Troop would certainly agree!

Overalls
Made of grey wool cloth, with leather reinforcing, and a red stripe down the outside leg seam. They have leather boot straps to keep them pulled down over the boots when mounted. The overalls are worn with ankle boots and plug-in 'box' spurs; for full dress they are replaced by the white buckskin breeches and knee-length tasselled hessian boots.
Below are detailed the various orders of dress, as described in Standing Orders for 1819 - 30, which are the earliest that we have yet discovered. These are accompanied by notes of any differences we now use, either because the equipment differed in our period, or because the unit does not have access to some items. We can be confident that these standing orders are close to what would have been in use a few years earlier, as they were written by Lt. Col. Thackwell to replace a set that had been lost.

The wear of summer dress is to commence on the 15th Apr., that of the winter on 1st Nov. - it will be as follows:- Officers are to wear the regn. Sabre on all parades and mounted duties, and on occasions of dress the Mameluke hilted sword.

Review Order
Officers and men to wear dress jackets & sash with the pelisse slung, chaco cap & dress plume - the men wear best overalls & the officers scarlet Cossacks with gold lace appointments. Full dress saddlery complete. The leather behind the cap is on no account to be turned down in wet weather.
(Differences; Shako or Busby will be worn as detailed. If it is possible to turn out the whole party uniformly, Buckskin britches and Hessian boots will be worn.)

Review Marching Order
The same, officers and men having the valise on.

Levée & Drawing Room
Full dress of the officers as above except that scarlet pantaloons with long laced boots & Tassels & regn. Plated spurs are to be worn. At balls the same except that scarlet Cossacks and ankle boots are to be worn - no variation, winter or summer.
At dinner or evening parties - pelisse buttoned with scarlet Cossacks - in summer jacket & sash & all dress appointments except pouch belt.
(Differences: officers will not use Cossacks and ankle boots, but always pantaloons and Hessians. As, for our purposes, such events are "all ranks", the men will wear buckskins and Hessians on such occasions. For all ranks, at dinner the Dolman may be worn unbuttoned, with an appropriate waistcoat, the sash then being worn over the waistcoat, beneath the Dolman.)

Marching Order
Chaco covered with plume - men in full dress, best overalls to be packed up for change at station - officers wear undress jacket & pelisse, plain horse furniture & appointments with valise - sash to be worn with undress jacket.
(Differences: As generally the men will have only one pair of overalls, these will have to be worn.)

Light Marching Order
Pelisse buttoned - in summer jacket and sash - best overalls and plume to be left in quarters - in this dress all parties turn out in sudden emergency, to assist Civil Power etc. - all mounted escorts to be in this order.
(Differences: Some ceremonial escorts will be in the Review Order.)

Field Day Order
Officers and men have pelisse buttoned, & jacket and sash in summer, chaco cap and plume, shabraque left in quarters.

Field Exercise Order
Men wear stable jackets and forage caps - officers undress caps - Cloaks, carbines, pistols, pouch belts, and head collars are carried on all the above occasions.
(Differences: Carbines and pistols will depend on availability, and the degree to which we can achieve uniformity.)

Riding School Order
Men in undress jackets with swords, but without cloaks or collars.
When officers attend the riding school neither bearskin or shabraque are to be worn.
(Differences: On some occasions, swords will be ordered no to be worn.)

Watering Parade
Officers and men in white trousers in summer, and overalls in winter - if wet, overalls always - officers to have plain saddles.
(Differences: Standing orders do not mention saddlery, but judging from contemporary illustrations, and Mollo, the horse should have only a bridoon bridle, and a folded blanket held on by a surcingle. Blankets should be folded uniformly.)

Full Dress Parades on Foot
Pelisse, best overalls, chaco cap & plume - In summer white trousers, jacket and sash - officers to wear undress, with overalls or trousers, chaco & hair plume.
On Sundays - same dress during the day for officers and men outside barracks.

Stable Dress
Undress jacket, overalls & forage cap with shoes - in summer trousers (for stable duties trousers always except in very cold wet weather) -This is the common dress off duty, and for afternoon parades - officers wear the undress pelisse - in summer, jacket and trousers - chaco covered, without plume, to be worn - swords are also to be worn - forage cap to be uncovered on all parades, on other occasions, if wet, it may be cased.

At Mess
Pelisse & undress jacket in summer, and dk grey overalls with silver lace.
(Differences: Overalls to be blue grey with red stripe. Generally this will be superseded by the dress detailed under levée & drawing room.)

In England the barrack guard is to mount in full dress - but at sunset the old overalls, undress jacket, forage cap & shoes to be worn --the full dress to be resumed in summer at 6am, & at sunrise in winter.

On escort duties, the men are to wear full dress with shoes and overalls, but without swords.

Except on Sundays, the orderly officer is to wear the chaco cap covered - on mounted duties the same cap as the other officers - with the plain pouch belt. He is not to be seen without his sword, and is not to wear the greatcoat on duty.

The pelisse is to be slung so as to show the whole of the jacket collar & no more, the edge of it coming between the middle and left row of the buttons of the jacket.

Leathers shining with a clear brown gloss.

Sheepskin white.

Cloak about 38ins long. To be 1½ins. Below the holster pipe ends.

End of the shabraque to be doubled upon the croup in marching order.

Sword to hang with top of hilt 6ins. From left elbow.

Cap to be worn over the forehead - chaco worn straight - forage cap obliquely over right eye. (In this instance they refer to the busby as the "cap", which had been retained for officers for court wear in the post Napoleonic reforms.)

'Tach to hang so the man at attention can touch it with his middle finger.

Researched by Capt Potts - E Troop, the 15th, or King's, Light Dragoons (Hussars)
From http://The Training of Cavalry Remount Horses, Capt. L. E. Nolan
THE TRAINING
OF
CAVALRY REMOUNT HORSES,
BY THE
LATE CAPTAIN NOLAN
A NEW EDITION
REVISED BY THE AUTHOR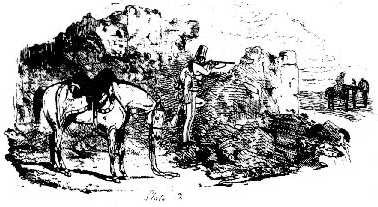 LONDON
PARKER SON AND BOURN
MDCCCLXI
---
TO
LIEUT.-GEN. SIR GEORGE H. F. BERKELEY, K.C.B.,
IN
TESTIMONY OF GRATEFUL RESPECT AND ESTEEM,
THIS WORK IS INSCRIBED,
BY
HIS FORMER AIDE-DE-CAMP,
L. E. NOLAN
CAPTN. 15th HUSSARS.
ARMY AND NAVY CLUB,
10th August, 1852
SINCE this book was, put in the printer's, hands, I have been travelling on the Continent. Every where I found that Monsieur Baucher's new Méthode had excited much attention, and not a little jealousy, amongst the followers of the old system. Books and pamphlets had been published, trying to turn into ridicule the bold intruder who, in two months, brings his horses to do what years could not accomplish in the old school.
In France, Baucher's Méthode was subjected to a trial, which, according to the reports of many members of the committee, were eminently successful. The system was rejected notwithstanding; but some of the bending lessons - the most important part of his Méthode - were retained, and are now made use of in the French Cavalry.
In what I have seen in the different foreign riding schools which I have visited, I have found no reason to change my opinion regarding the advantages to be derived from the application of part of Monsieur Baucher's Méthode to the purposes of cavalry; and I have endeavoured to graft upon it what I found best in practice, namely, first to bring out the horse's action, improve his paces, and give power and freedom to his movements; then use Monsieur Baucher's Lessons, which enable us to control that action, and thus regulate the horse's paces, and render him handy and obedient. The troop horses in our service are not under proper control. The daring impetuous courage of our men is thrown away in action, for the horse will not second the rider's efforts with that speed and those sudden volts which enable the horseman to close upon and conquer his opponent. Does the fault lie with our men or with the horses?
Most certainly not with either. Our men are superior to those of other nations, and there is no quality in which the well-bred English horse does not excel, no performance in which he cannot beat all competition. No, it is the system which is at fault. To ascertain and expose the faults of an existing state of things is easier than to substitute a different one, which shall not be liable to greater objections; a trial of the system which I advocate, will, at least, prove interesting, and I hope establish beyond a doubt the great advantages to be derived from it.
The late Marshal Soult, who took great interest in it, and witnessed several of the trials made by order of the French Government, was heard to say repeatedly, ``If English Dragoons were taught to break in their horses in this manner, they would prove the most formidable Cavalry that the world ever beheld, for it would give them that command over their horses in which they are so deficient."
------------------------
Galignani, 8th August, 1853.
"The Emperor has conferred a pension of 2,400 francs on Monsieur Baucher, the well-known professor of horsemanship, as a recompense for the services rendered by him in the Cavalry School at Saumur."
---
LETTERS.
----
Extracts from a letter of
LIEUT.-GENERAL JOHN AITCHISON.
London, April 8th, 1852.
My Dear Sir,
* * * * * * * the system established and followed by you was eminently successful in training horses for the ranks (in the 15th Hussars).
I saw several remounts of seventy and eighty horses of different breeds and countries, and all appeared to be equally well broken in in a very short time; and it is due to you to state, that your successor, Lieut. LEE, who followed out your system, was perfectly successful in breaking in in a short time all the different breeds of horses for the ranks.
Upon one occasion I suddenly required a ride to be shewn to me in the school, at a time of the year when no riding drill (except for recruits) was carried on, and for this volunteers of two men from every troop turned out, who, without preparation of any sort, went through all that is required in Her Majesty's Regulations, and also performing several difficult and intricate figures at a gallop, and picked up basket heads from the ground at full speed, shewing how much they were at home on horseback, and how perfectly they could manage their horses.
I may add, that while the regiment was in the division under my command from July 1845 to October 1851, I never recognized any man but one who had ever been before me at any of the inspection rides, and I believe from inquiries made at the time, that he was the only man I had ever seen twice at these rides. * *
My last review of the regiment took place at the half-yearly inspection of October 1851, at which time two squadrons were mounted on geldings and two on entire horses*, and I reported that it was the best review I had ever seen the regiment make at Bangalore, that the movements were executed with celerity and precision, and that the entire horses and geldings all worked so steadily and close, I could not observe any difference between them.
Believe me,
Yours truly,
(Signed) JOHN AITCHISON.
TO CAPTN. L. E. NOLAN,
l5th Hussars.
--------------------------------------------
* "It was supposed that stallions could not be made to work as close and as steadily in the ranks as geldings: the entire horses when brought into contact, if they once got their noses together, reared, fought, and broke from the ranks.~ - Note by Author.
---
Extracts from a letter of M.-GENERAL LOVELL B. LOVELL, KH., H.P., 11th Hussars.
London, U. S. C., 27th March, 1852.
MY DEAR NOLAN,
* * * * * * In regard to the Breaking and Training of Horses and men in the riding school or manége, I have to remark, that by your excellent system the horses, instead of being eight or ten months there, were all ready in less than two months, were brought simultaneously, and were equally obedient and handy. The work was so light that none suffered from the training.
Of eighty horses broken in one season, whilst I held the command of the 15th Hussars, seventy-nine were ranged in the ranks in six weeks. I passed them myself, having seen them go through the whole of the lessons - cantering, passage, changes of leg, &c.; they walked well, trotted steadily, and I remarked, particularly, their fine carriage, and the facility with which they reined back and closed to either hand, my approbation of which I mentioned in regimental orders, and which I attributed to the system pursued by you, which system was also attended by other advantages; the men had greater confidence in feeling their horses to be so much under control, that they worked better in the field, and would prove more formidable in single combat. By this system a large number of horses could be broken in in a very short space of time, and it would prove advantageous, if generally adopted in our cavalry.
The 15th Hussars, at that time, had been composed of men of different arms, and I do not hesitate to state, that by your mode of manége they were all brought to the same uniform position and seat on horseback.
Believe me,
Very truly
L. LOVELL, M.-GENERAL,
Colonel H. P. 11th Hussars.
---
Letter from LIEUT.-COLONEL G. W. KEY, 15th Hussars.
London, 5th April, 1852.
My Dear Nolan,
As you tell me in your letter that you are about to publish a small work on Military Equitation, and ask me for my opinion of the system followed by you for breaking in the remounts of the 15th Hussars, I lose no time in complying with your request, and in stating what I know from practical experience to be the case, that it is a most excellent system. Its advantages are numerous. The chief, perhaps, is the short time required under it to render the horse in every respect perfect in manége, and fit for his work in the field, either in squadron or when skirmishing. The system is so simple and so gradual that no evil effects result from it; and may be acquired most easily by any dragoon, enabling each man to break in his own horse thoroughly. The evident and rapid progress creates an interest which renders this duty of the soldier a pleasure and never a toil. I cannot write nearly all I think of the system, but all that I do say in its praise I can say with confidence, for I have carefully considered it, practised it, and seen its beneficial results. Upwards of 300 horses of the regiment have been broken in (each by his owner) on this system; and, if my memory serves me correctly, all having progressed together, with perhaps two or three exceptions, were simultaneously dismissed from drill under three months, rest-days included, fit for all hussar purposes, wel1 mouthed, well balanced, and under proper control. Such of my own horses as were broken in on this system by you were, to my mind, perfect chargers, and some I know belonging to others were more highly finished even than mine. It is not to be expected that every dragoon is to be a perfect riding master, or that his horse should be of the haute école; but it is greatly to be desired that every dragoon should be able to break in his own horse, to have him under thorough control, and to ride him with confidence and pleasure. This can easily be obtained by the system you pursued, and it perfectly succeeded with horses of various descriptions and breeds - Arab, Cape, Persian, Australian, and the country-bred horse of India - this last the least tractable of any; and it must be remembered that all these horses were quite unbroken when they joined the regiment, and unaccustomed to Europeans.
With my best wishes,
Believe me,
Yours very sincerely,
G. W. KEY.
Captn. L. E. Nolan,
King's Hussars.
Cardigan Assumes Command

In 1832, Cardigan bought the lieutenant-colonelcy of the 15th King's Hussars. Their previous commander, Sir Joseph Thackwell, was a military historian and respected soldier (he'd lost an arm and had two horses shot from under him at Waterloo), and his command was notable for his humaneness and the rare incidence of insubordinate behavior. All that changed under Cardigan, who suddenly demanded higher standards of formation, parades, uniform maintenance and appearance. Underlings who differed with Cardigan's insistence on discipline and protocol were punished; one Captain Augustus Wathen was nearly court-martialled, mainly because he alerted superiors to Cardigan's overpurchasing of new uniforms. It was the acquittal of Wathen that prompted the army to take the 8th Hussars away from Cardigan.

Cardigan had come in to command men who had fought alongside of Wellington at Waterloo, and who had been majors when he had entered the military. That was also the year when the threats of riots and revolution spurred the passage of the Reform Bill-- which Cardigan, one of the more reactionary Tories of the time, opposed. In short, Cardigan was a man who felt the divine right of kings in the marrow of his bones, and who was deeply at odds with the current reshaping of society.

Cardigan could not believe that he would not have a command. He lobbied the Duke of Wellington (who was amazed at Cardigan's single-mindedness and apparent inability to realize how badly he'd embarrassed himself). Only through the influence of relations-- his brother-in-law was the Queen's chamberlain-- and another purchase of rank was Cardigan able to secure the command of the 11th Light Dragoons in 1837-38. (Another factor was Sir William Molesworth, reformer, radical, professed atheist, advocate of the secret ballot and the abolition of flogging. He denounced Cardigan's reassignment, so the military closed ranks to smite Molesworth the upstart. Thus, Cardigan was reinstated by an act of Parliament.)